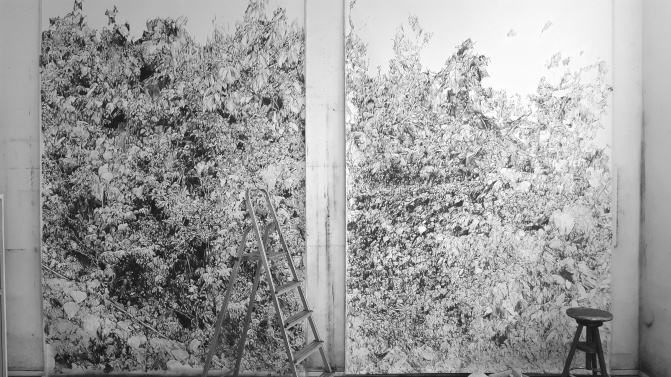 June 11, 2018
Anouk Griffioen - Natur
Anouk Griffioen: 'A figure often creates a barrier between the picture and the viewer, who becomes a voyeur, standing outside. Instead, I want the viewer to be the figure.'
The artist Anouk Griffioen brings together different landscapes and subjects in monumental charcoal drawings. She creates a world into which the viewer can easily disappear. In her art, she addresses the conflict between man and nature, city and landscape and the ever-expanding growth of the cities that compromises the quality of life. By bringing vegetation back into the cultivated environment, Griffioen appeals to our deep-rooted longing for nature. It is the place to leave the beaten track, and come to new insights. Sporadically, a human shape seems to dissolve into the background. However, the figures never become explicit. It seems hard to believe that the enormous drawings are made with charcoal. 'How is it made?' That is one of the most frequently asked questions. Do you also want to know how these works of art are created, come to the Erasmus Gallery and see for yourself as Anouk Griffioen will create work on the spot in the next few months!*
Anouk Griffioen - 'Natur' Erasmus Gallery from May 22th until August 17th
Anouk Griffioen will (most likely) be present on the Thursdays, throughout the day.
Location Erasmus Gallery: Erasmus University Rotterdam, Erasmus building (corridor between Theil Building C-hal and Aula Erasmus Building). Burgemeester Oudlaan 50, 3062 PA Rotterdam
Info EUR Art Affairs - E art-affairs@eur.nl. T: +31 (0)10 - 40 82 802.
Opening hours EG Mon-Fri 9:00-18:00
Contact
Press
Anne Clement - van Vugt
+ 31 (0)6 13 77 72 44
Office
secretariaat@vbcn.nl
Postal address
Secretariaat VBCN
p/a E. Vossen
Waterkersweg 240
1051 PH Amsterdam
Concept and design
Kummer & Herrman
Technology and hosting
8bahn
Content management
Imee Luteijn
Copyright
© 2013 - 2018 Vereniging
Bedrijfscollecties Nederland
The Netherlands Association of Corporate Art Collections (Vereniging Bedrijfscollecties Nederland) (VBCN) and its affiliated companies cannot be held liable for information in any form placed on its website by third parties or for printed media information based on its website. The VBCN is neither liable nor responsible for the contents of any offsite pages or of pages linked to or derived from its website.
The information the VBCN has placed on its website has been edited with the utmost care and is, in its present state, provided without any guarantee, in whatever form, explicitly or implicitly, including, but not exclusively, guarantees in respect of saleability, possible applications, non-infringement, accuracy and currency.
The VBCN reserves the right to alter the contents of or temporarily or permanently deactivate its website at any time without prior notice.
Neither the VBCN nor any of its affiliated companies is liable for any computer virus or any direct, indirect and/or consequential loss, whether or not resulting from such a virus, arising from access to, use of or trust in the website www.vbcn.nl, any website linked thereto, or information on any such website, except in the event of intention or gross negligence.
Intellectual property rights to all information on its website belong to the VBCN and/or its affiliated companies, except where use has been granted by the owner of said rights.
All provisions and conditions pertaining to the VBCN apply.
Permission to use works by visual artists affiliated with CISAC organisations has been obtained through Pictoright in Amsterdam.
© c/o Pictoright