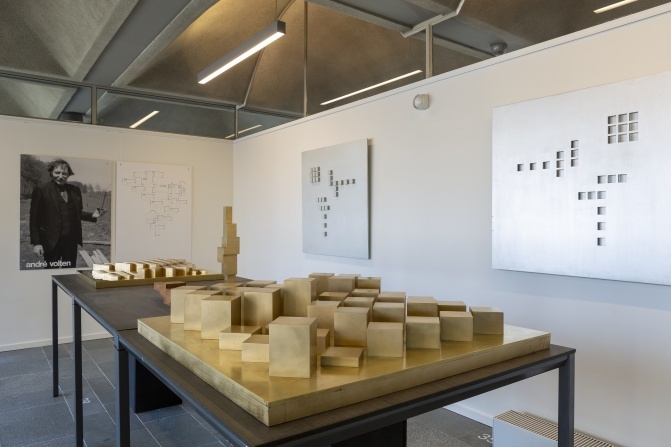 July 11, 2019
Spiegels van de Hemel
Het kunstwerk 'Spiegel van de Hemel' van André Volten heeft in juni 2019 een nieuwe plaats gekregen in Amsterdam, naast het kantoor van BPD (Bouwfonds Property Development). Het kunstwerk is in opdracht van BPD gemaakt en stond sinds 1986 naast het voormalige hoofdkantoor in Hoevelaken. Met het vertrek van BPD uit Hoevelaken naar Amsterdam, is ook 'Spiegel van de Hemel' verhuisd en heeft het een nieuwe plek aan de Amstelveenseweg gekregen. De verplaatsing van het kunstwerk vormde de aanleiding om samen met Trude Hooykaas (adviseur Stichting André Volten) een tentoonstelling samen te stellen. De tentoonstelling laat diverse werken uit het oeuvre van André Volten zien die in bruikleen zijn gegeven door de Stichting André Volten. Deze werken verhouden zich op bijzondere wijze tot een selectie van werken uit de BPD Kunstcollectie en het recent gerestaureerde Burgerweeshuis van Aldo van Eyck, een tijdgenoot van Volten.

André Volten
André Volten (1925-2002) groeide op in Andijk. Na de Tweede Wereldoorlog vertrok hij naar Amsterdam waar hij in 1945-1946 lessen volgde aan het Instituut voor Kunstnijverheidsonderwijs, de voorloper van de huidige Rietveld Academie. Daarna trok hij voor vier jaar naar Brussel. In 1950 vestigde hij zijn atelier aan de Asterdwarsweg in Amsterdam-Noord. Het gebouw deed eerst dienst als het poortgebouw naar het Asterdorp, gebouwd in 1927. Volten woonde en werkte er tot aan zijn dood. Het atelier is nog steeds te bezoeken en wordt beheerd door Stichting André Volten.

André Volten en Aldo van Eyck
André Volten was één van de oprichters van de Liga Nieuw Beelden (1955-1969), een Nederlands kunstenaarscollectief bestaande uit kunstenaars en architecten. De Liga Nieuw Beelden was eigenlijk een samenvoeging van verschillende andere kunststromingen waaronder de Nederlandse Experimentele Groep (Cobra), Vrij Beelden en Groep 54 (Creatie).
De Liga streefde naar eenheid tussen kunst en leven. Op die manier zou de kunst niet meer als geïsoleerd fenomeen bestaan, maar geïntegreerd worden in het maatschappelijk leven. In de Liga zouden kunstenaars, die ieder apart werkten, bij elkaar gebracht worden om gezamenlijke activiteiten te ondernemen.

De tentoonstelling in het Burgerweeshuis vormt een bijzondere samenkomst tussen het werk van twee leden van de Liga: André Volten en Aldo van Eyck. Hoewel de een kunstenaar en de ander architect was, heeft hun werk duidelijke overeenkomsten. Ze gebruikten dezelfde geometrische vormentaal. Beide volgenden ook het principe van de Liga Nieuw Beelden waarbij ze stonden voor het samengaan van architectuur, beeldende kunst en vormgeving. Het Burgerweeshuis vormt daardoor een passende omgeving voor de werken van André Volten.

Bezoek
Het Burgerweeshuis is voor particulieren te bezoeken. ARTTRA biedt iedere tweede zaterdag van de maand een rondleiding aan door het gebouw en langs de BPD Kunstcollectie.

Lees hier (https://www.bpd.nl/actueel/blog/kunst-en-cultuur/rondleidingen-arttra-in-burgerweeshuis ) meer over rondleidingen in het Burgerweeshuis.
Contact
Press
Anne Clement - van Vugt
+ 31 (0)6 13 77 72 44
Office
secretariaat@vbcn.nl
Postal address
Secretariaat VBCN
p/a E. Vossen
Waterkersweg 240
1051 PH Amsterdam
Concept and design
Kummer & Herrman
Technology and hosting
8bahn
Content management
Imee Luteijn
Copyright
© 2013 - 2018 Vereniging
Bedrijfscollecties Nederland
The Netherlands Association of Corporate Art Collections (Vereniging Bedrijfscollecties Nederland) (VBCN) and its affiliated companies cannot be held liable for information in any form placed on its website by third parties or for printed media information based on its website. The VBCN is neither liable nor responsible for the contents of any offsite pages or of pages linked to or derived from its website.
The information the VBCN has placed on its website has been edited with the utmost care and is, in its present state, provided without any guarantee, in whatever form, explicitly or implicitly, including, but not exclusively, guarantees in respect of saleability, possible applications, non-infringement, accuracy and currency.
The VBCN reserves the right to alter the contents of or temporarily or permanently deactivate its website at any time without prior notice.
Neither the VBCN nor any of its affiliated companies is liable for any computer virus or any direct, indirect and/or consequential loss, whether or not resulting from such a virus, arising from access to, use of or trust in the website www.vbcn.nl, any website linked thereto, or information on any such website, except in the event of intention or gross negligence.
Intellectual property rights to all information on its website belong to the VBCN and/or its affiliated companies, except where use has been granted by the owner of said rights.
All provisions and conditions pertaining to the VBCN apply.
Permission to use works by visual artists affiliated with CISAC organisations has been obtained through Pictoright in Amsterdam.
© c/o Pictoright